With the trend of raining cash at occasions already here, a couple's wedding ceremony has raised the bar for the display
A video from the recent tasteful wedding ceremony showed how guests made it rain only in dollar notes
The dollar bills became the carpet of the occasion as it flew left, right and centre on the dancing couple and guests.
A couple's wedding ceremony has become the talk of social media owing to the manner in which money bags displayed their wealth.
The rich wedding occasion turned a dollar-spraying spree as can be seen in an Instagram video .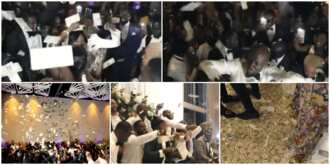 The occasion which was that of lovebirds identified as Bernice & Kojo was as if it was an entry rule that no currency aside from dollars be showcased.
From left, right and centre, money rained to the point that it littered the floor and became a carpet for the dancing couple and guests.
@_toyss_ stated:
"Nah the way I'll stylish just keep dancing shoki to take the money Spray me the money. Lemme buy a new car."
@rhodilove commented:
"By this time de3, they are busy working for their money I'm laughing like a killa."
@feliciagrahambeauty wrote:
"I would have loved to be the broom sweeping up the floor."
@simplykeren remarked:
"If I didn't see Ghana I for say they're from Anambra state.