- Sandra's mother's reaction was priceless as she jumped, kneeled down and praised God for the gesture
- Many who reacted to the video of the gift wished her a happy birthday and also prayed they are able to do same for their mothers.
A Nigerian dermatologist and biologist, Sandra Desmond, put bubbling joy on her mother's face as she beamed with big smiles.
In one of the posts she shared on her Instagram page, it showed Sandra posing with her mom with the car.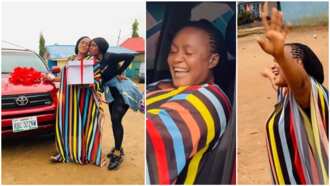 Below are some of the reactions it got:
aderinto_oyindamola123 said: "God I wish to make my mum happy too one day congratulations to her"
qualitycocktailsnmore said: "Congratulations dear mum...Happy birthday"
gra66333 said: "Woooooooow..happy birthday to her"
testy_gracious said: "Awww, this is so sweet...this is exactly what I want to gift my mum....mother are just so special"
chikelztrue said: "Wow.. this is beautiful.. happy birthday ma"
hinaapparels said: "God bless you, may God help me to do this for my mum"
To show how her mom received the car, there was a video post on her page that captured how the vehicle was driven into her family's compound.
As the vehicle made its way into her mom's house, the happy mother kneeled down with her two hands in the air, singing praise to God.
Watch the video below: