Rev Paul Abam who tried to plant charm on his cousin's land to extort money from him, has being disgraced after being caught by angry mob in Cross River State Nigeria.
A family source said the Pastor requested money from his cousin to uproot a charm planted in his land. He was however traced and caught with some fetish stuffs at a shrine in Itigidi after a resident saw him planting the said charm in the land.
According to report, the pastor is known for giving out fake prophecies and extorting people of their money.
Juliet Wonah wrote;
"99 DAY FOR THE THIEVE ONE MINUTE FOR THE OWNER. THOSE OF YOU THAT WILL MOVE FROM ONE CHURCH TO THE OTHERS BE VERY VERY CAREFUL EBD OF THE ROAD FOR REV PAUL ABAM OF D LORDBASE PROPHETIC MINISTRY UGEP. NOT ALL MEN OR WOMEN OF GOD ARE REAL.MANY OF THEM HAVE TEAR FAMILY APART CAUSE FAMILY WAR ALL BCOS OF FAKE PROPHECY.STAY WERE U ARE GOD HAVE TOLD US IS THERE ANYTHING TOO HARD FOR HIM TO DO NO. Just hold until God and you will see him doing everything for you. If you believe u will see the miracle of the Lord. He must have destroyed alot of family but God has disgrace him. Be warned, be mindful, pray and watch for Jesus is coming soon."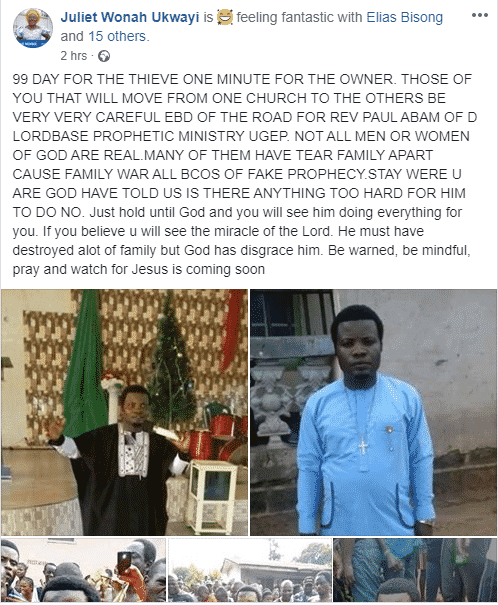 Here are photos below;