Controversial Nigerian preacher, Prophet Odumeje, seems to have a number of fans all over the country
- A fan of the pastor shared a throwback photo of himself with Odumeje
- The photo which was taken about 22 years ago was from the friend's matriculation ceremony
!
Nigerians are undoubtedly very religious people and they hold their preachers in high regard. However, most preachers are known to conduct themselves in certain ways and it comes as a surprise when one of them deviates from the norm.
Popular Nigerian preacher, Prophet Odumeje, is no doubt unconventional in his ways of preaching. The man of God rose to fame as a result of his unusual antics at the altar and it has garnered fans to his side.
While many know what Prophet Odumeje looks like now, not many are aware of how he looked when he was still 'the preacher of love' and when he was not yet the 'liquid metal' or the 'Indaboski'.
Just recently, a Facebook user identified as Chinedu Bartholomew Ezeakunne reached out and shared a photo of the prophet from back in the days.
Chinedu explained that the photo was taken about 22 years ago at his matriculation ceremony in UNIZIK and that the preacher had humble beginnings.
He said that at the time, the preacher was known as Chukwuemeka Ohanemere and that despite what some people are saying about him now, only God knows those who truly worship him.
See the throwback photo of the Indaboski pastor below: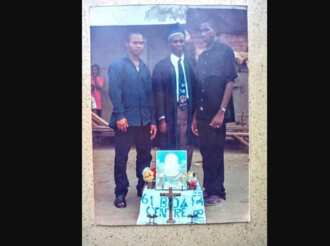 Lovely.