- Trevor Belle, a cab driver in the UK, has passed away from Covid-19 after a passenger spat on him over fare
- Before the passenger attacked him, he disclosed he had the deadly coronavirus and now Trevor will have it too
- Kelly Esqulant, his wife, has described him as a kind man who would forgo anything if he knew it would help many
A black taxi driver, Trevor Belle, has died from coronavirus after a passenger who claimed he had the virus spat on him when they were fighting over £9 (N4,263.55) fare.
The 61-year-old driver died from the illness in April at the Royal London Hospital after battling the virus, Daily Mail reports.
It should be noted that not more than 20 people were allowed at his funeral in order to follow strict social distancing rule.
His wife, Kelly Esqulant, who was married to him for 28 years, said that she could not just understand why any person would be so wicked to another in such a manner.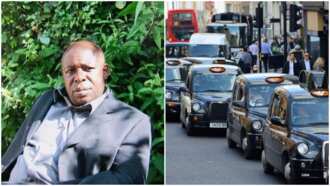 The media also noted that the deceased up until his death was regarded as the driver with the cleanest car in his community and was always practising good hygiene.
Belle, when reporting to a nearby police van, said that the attacker ran off after he spat on him. He kept off work after the incident before he started showing Covid-19 symptoms four days later.
In explaining how generous her husband could be, Kelly said:
"I know my Trevor, and he would have said if you can use that to do something that could help millions in the future, then do it."
This is not the first time this kind of attack would be happening. 47-year-old Belly Mujinga, a railway ticket officer, also suffered the same fate